Canada Revenue Agency - employer info session
Nov 21, 2019 02:00 PM to 03:30 PM
DSB C130
Registration Deadline: Nov 21, 2019 02:00 PM
Canada Revenue Agency - employer info session
Thursday, November 21 | 2:00 p.m.-3:30 p.m | DSB C130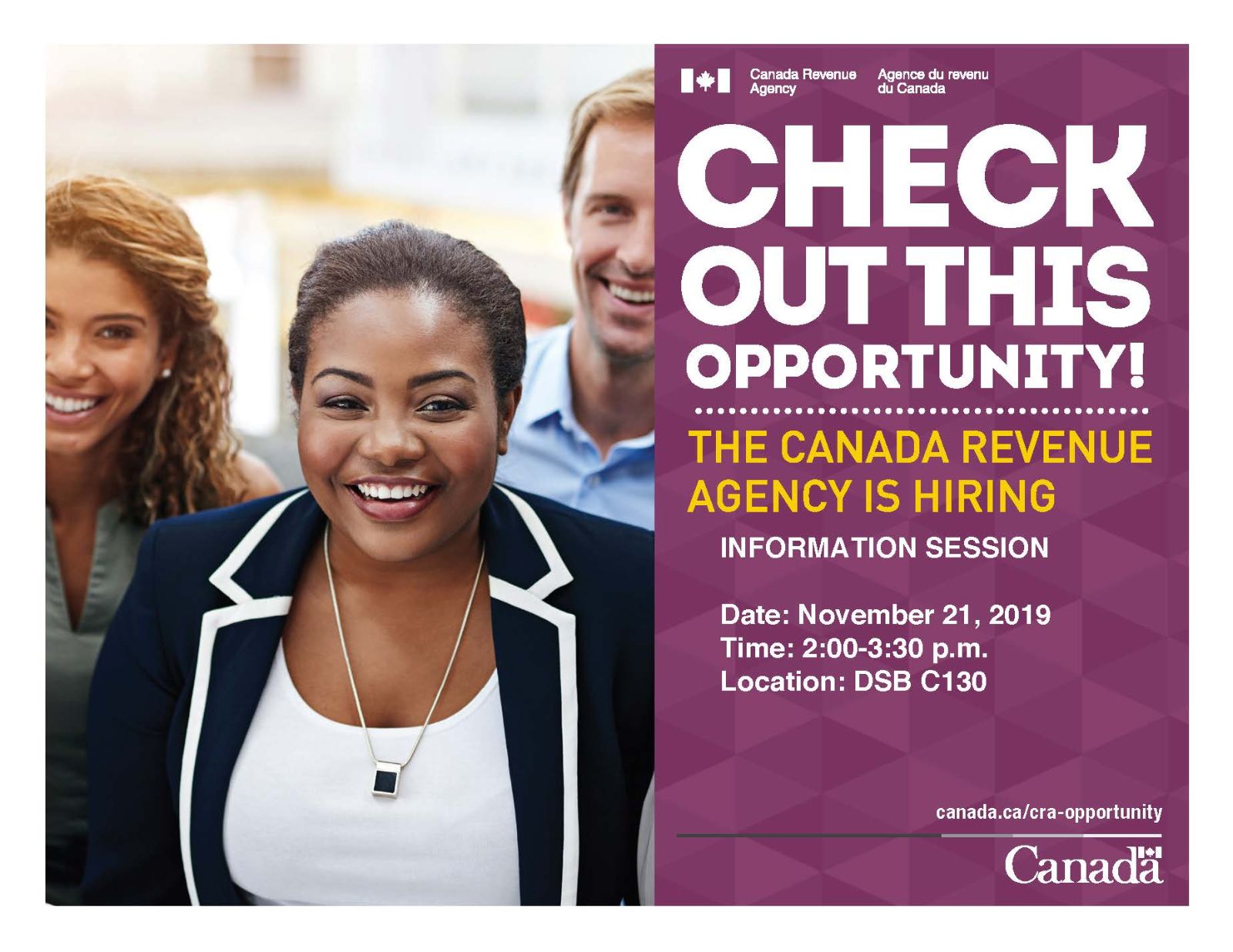 Are you looking to start a rewarding new career? Are you driven to provide exceptional customer service? Do you strive to make a difference in the lives of others? Come learn about current opportunities to work with the Canada Revenue Agency!

Why work with us? The reasons are endless! We weren't named one of the Top 100 employers in Canada by mistake. Ongoing training and skill development, opportunities for advancement, great benefits and an inclusive office environment as diverse as the country we live in are just a few reasons our Penticton office is a great place to work.

What will you be doing? You will be helping Canadians understand our tax system and ensuring they abide by their obligations to file and remit their taxes. Your customer service skills will help you resolve accounts and you will receive the training and support you need to handle difficult situations. Providing information on various programs to individuals and their representatives while seeking resolution to outstanding issues is very rewarding and you will leave work knowing you have made a difference.

Am I eligible? Contrary to popular belief, you do not need to be an accountant to work at CRA. We are looking to hire people with various backgrounds and skill sets for Compliance Officer and Collection Officer positions. If you are enthusiastic, have your high school diploma and have 12 consecutive months experience working in a customer service environment within the last 3 years, you are eligible to apply. See below for the posting.*

To apply to this job, you will have to create a Candidate Profile and then submit your application online. If your application is accepted you will be invited to a testing session. Come to this info session to learn more about the application process and the open positions.

Apply now!

Questions about applying to or working for the federal government? Check out the UVic federal campaigns website for information about hiring campaigns, tips on applying, and to meet your UVic federal government ambassadors.

*If you cannot see the job posting attached to this event, please log in and view the event in the events calendar.